Regular price
Sale price
¥3,867 JPY
Unit price
per
Sale
Sold out
A night cap that reduces hair damage by preventing friction, static electricity, and bed habits when worn during a good night's sleep.
Even if you have long hair that gets tangled when you sleep, you can quickly and easily take care of it with this hair creperie. Of course, for those with shortcuts.

The surface that touches the hair is 50% silk and 50% cotton. The outer material is 100% cotton. Because it is made of natural materials, it can be worn comfortably all year round.

The outer fabric is the brand's original textile.
The designer of ITSUKI draws the figure of a carefree, elegant and proud cat.
A taste that is not only cute but not too sweet, with the design of the scarf in mind. This pattern is recommended for all ages.

The hair creperie can be used not only as a nightcap, but also as a hair band during the day or as a sanitary hat in the kitchen.


<MATERIAL> COTTON, SILK
made in china
photos taken at the "Hotel Noum OSAKA".
photos taken at the "LYURO Tokyo Kiyosumi".
サイズ

後頭部の生え際・耳の下・前頭部の生え際を通るぐるりのサイズをご計測ください。定番ヘアクレープリーは、該当箇所が56~60cmであればお使いいただけます
素材

表地:コットン

裏地(髪にあたる面):シルク50%、コットン50%

生産地:中国
Share
View full details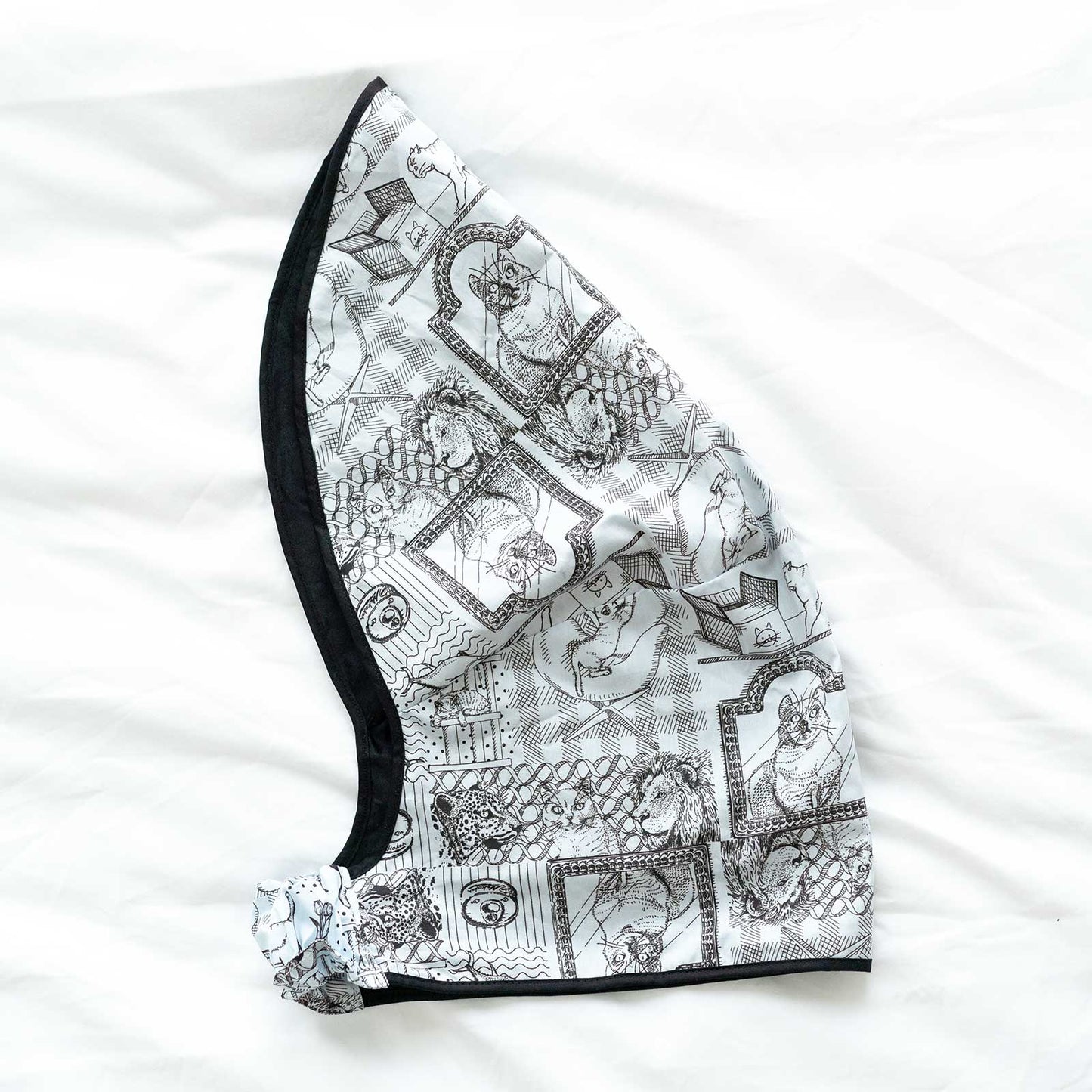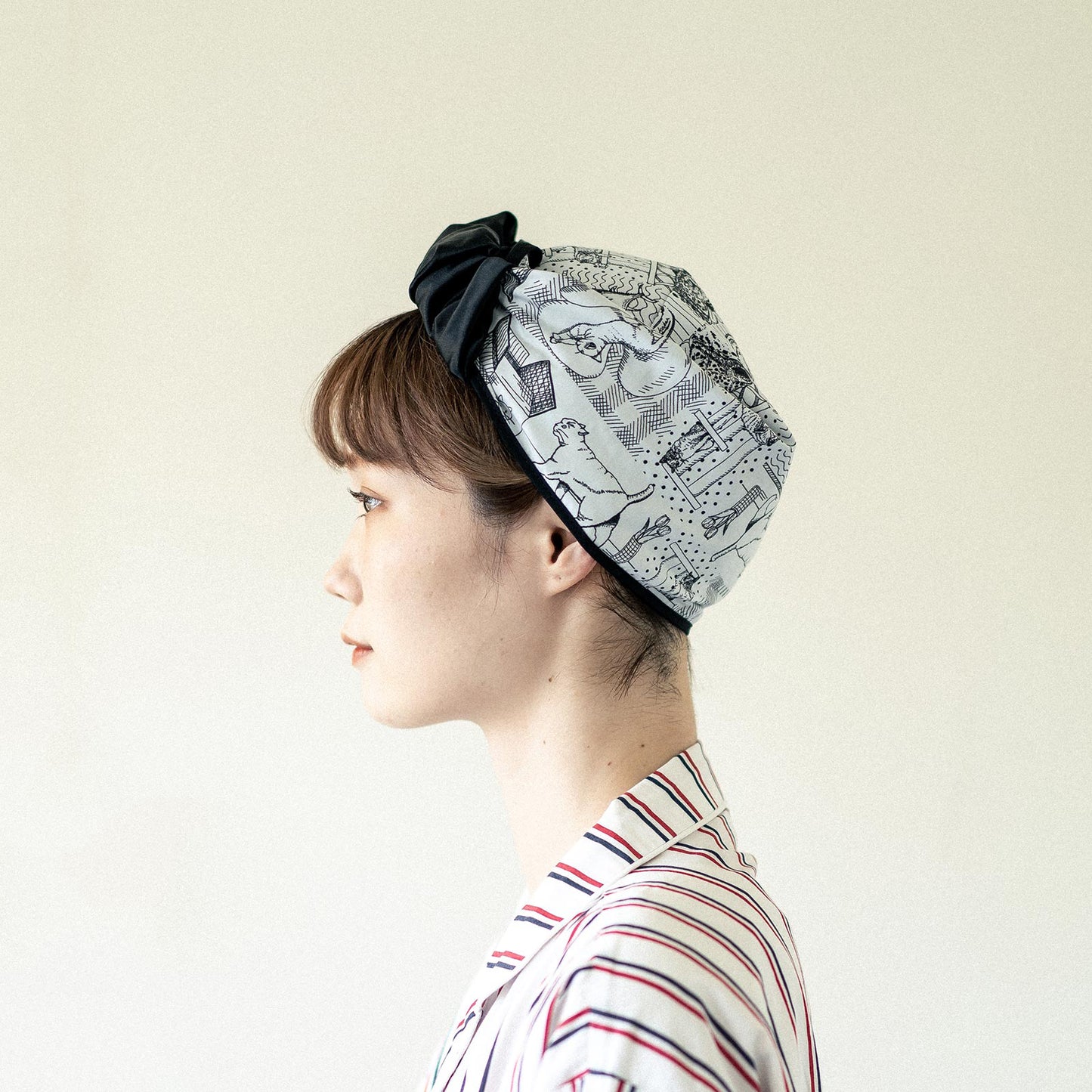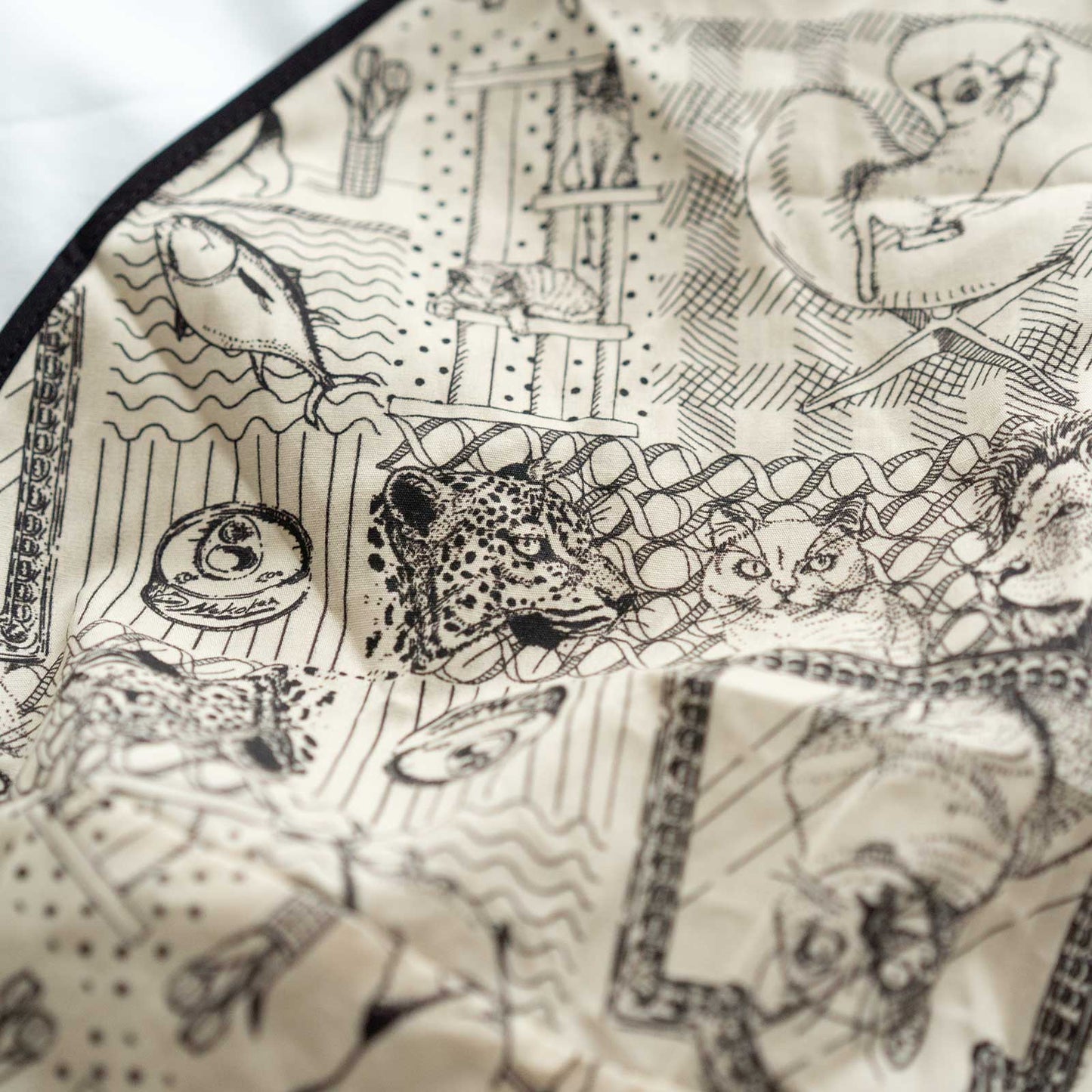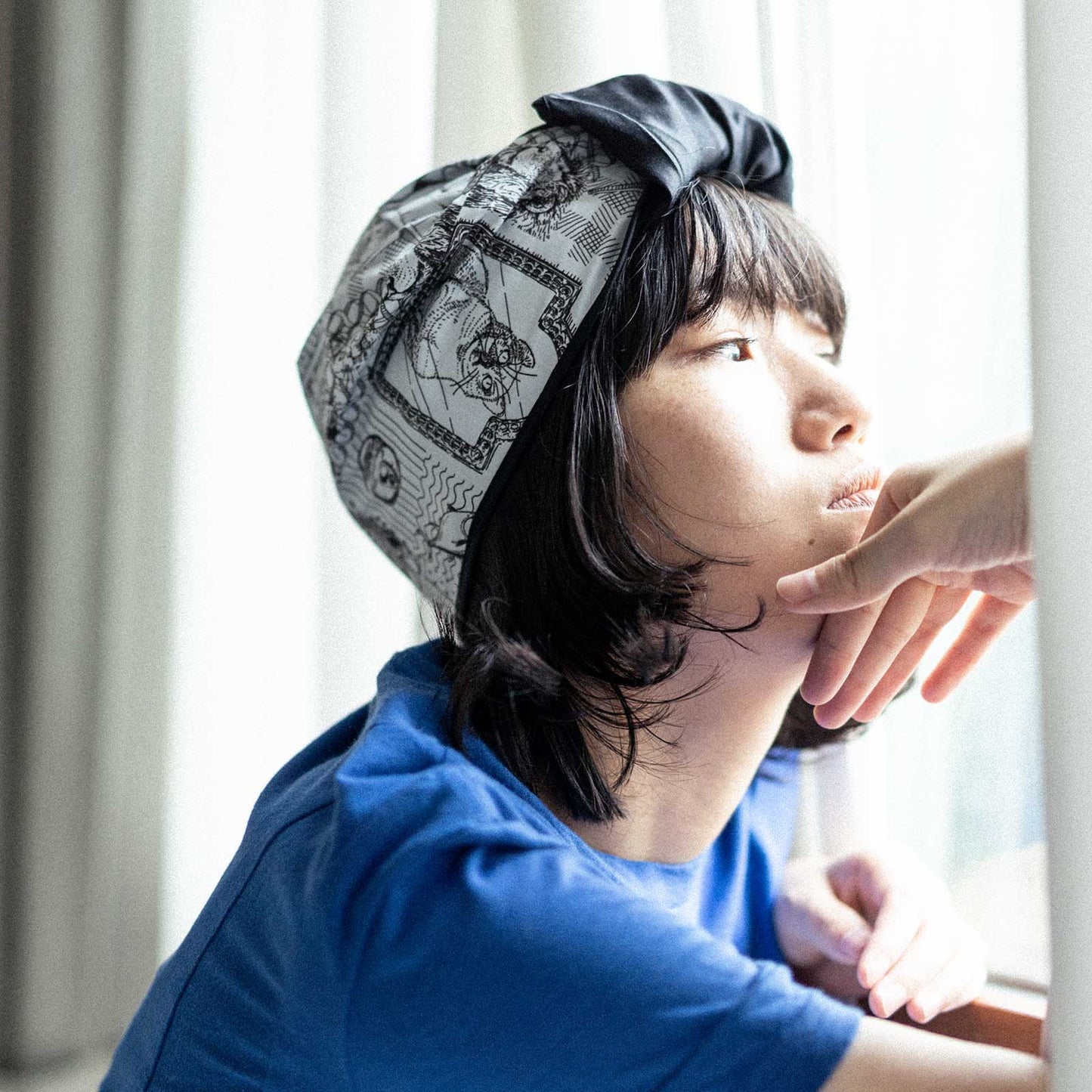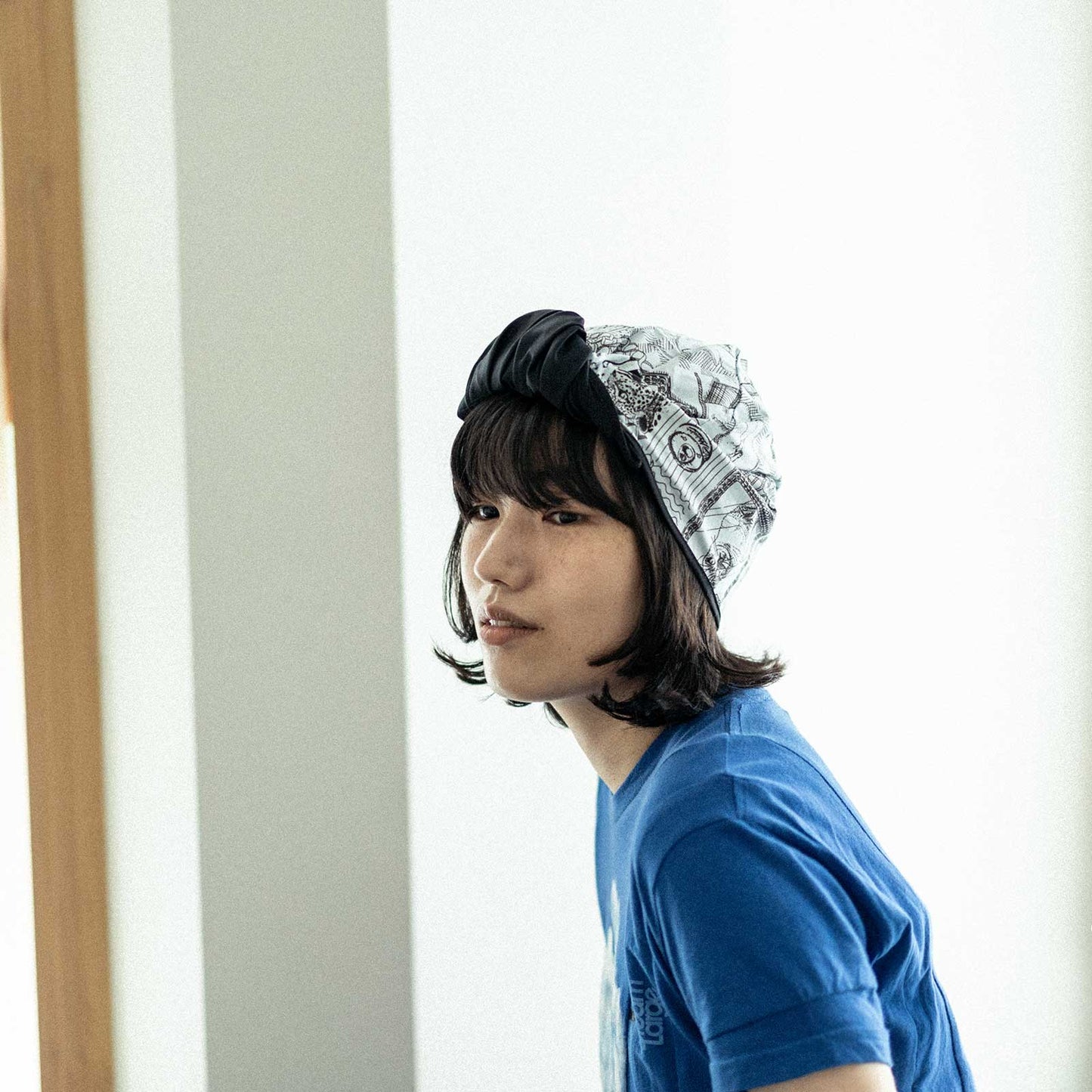 かぶり方
チェック
頭のサイズについて

後頭部の生え際・耳の下・前頭部の生え際を通るぐるりのサイズをご計測ください。定番ヘアクレープリーは、該当箇所が56~60cmであればお使いいただけます

頭の形について

後頭部の丸みが少ないと、ヘアクレープリーが脱げやすい傾向があります。
頭の形関係なく使える枕カバーKITSUMUがオススメです
ヘアクレープリーはこんなあなたに最適
髪が肩より長い、もしくはショートだけど伸ばしている
毎晩ナイトキャップをかぶるのが苦にならないマメな性格
クーラーや暖房など、空調をつけたまま眠る
摩擦だけでなく乾燥した空気から髪を守れて、アウトバストリートメントが肌や寝具に移るのを防ぐことができるヘアクレープリー。首元に髪がまとわりつくこともなく快適に眠れます。